Shell LiveWIRE Canada
Supporting Reconciliation efforts in Canada by boosting Indigenous Entrepreneurship
Shell LiveWIRE Canada is an enterprise development program that supports business development opportunities for Indigenous Canadians as part of Shell Canada's Indigenous Peoples Strategy to take positive action toward reconciliation.
The Canadian Shell LiveWIRE initiative is one way we support the lives and livelihoods of people near our operations through products and activities. By highlighting Indigenous cultural practices, and traditional knowledge within workshop activities while encouraging innovation and design-thinking, Shell LiveWIRE Canada strives to make long-term impacts within Indigenous communities.
The program has been running in Canada for several years and provides virtual training, mentorship, and networking from Shell. Since its inception, the program has supported several cohorts in building their businesses, many of whom have seen their dreams flourish and grow.
Learn more about program participants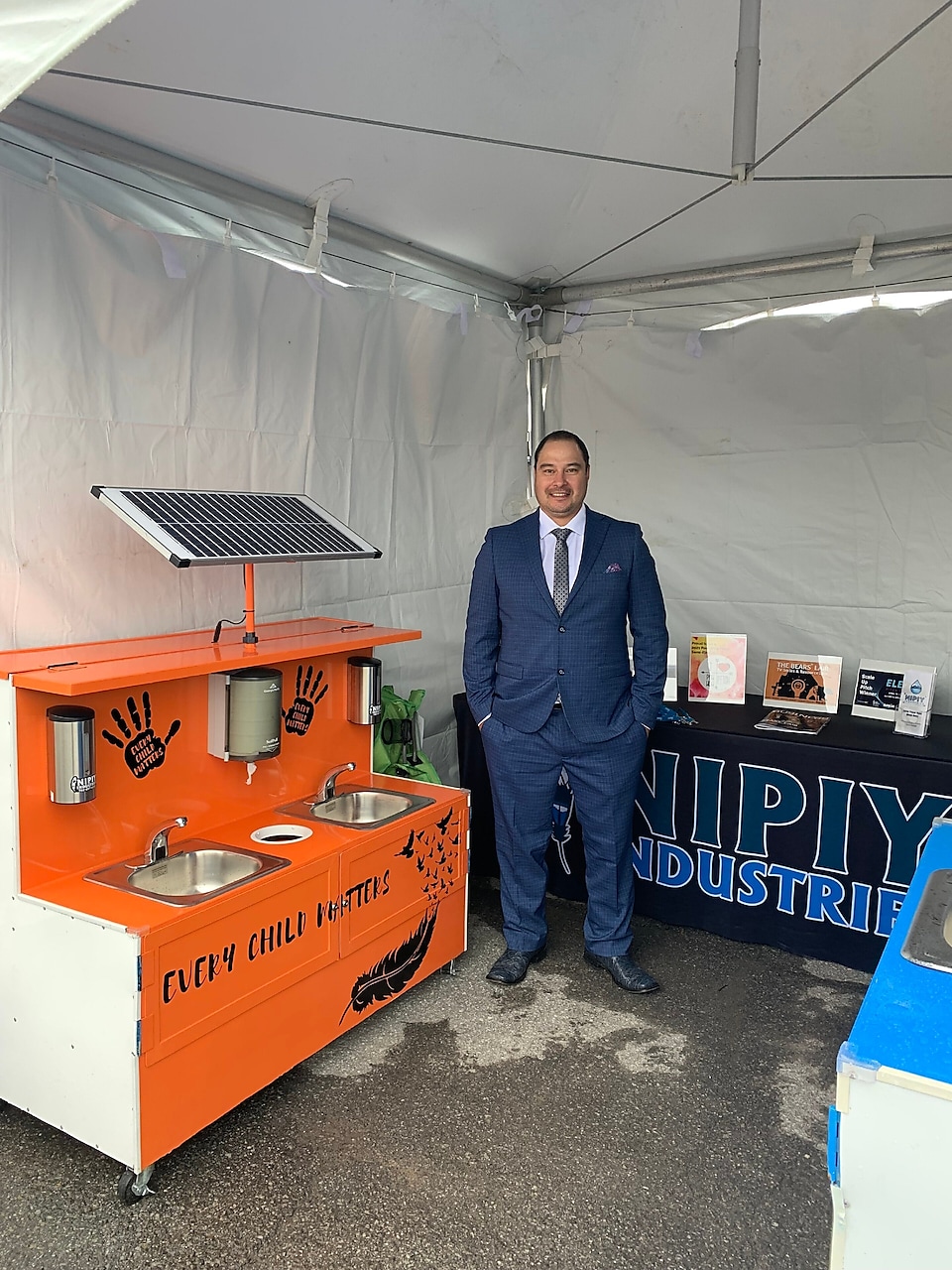 Jason Lizotte – Nipiy Industries

Jason Lizotte, founder of Nipiy Industries, is a Shell Canada LiveWIRE program participant. He developed his company under the banner "clean energy creating clean hands". Nipiy, which means "water" in Jason's native Cree language, sells solar-powered, touchless handwashing stations that can be used outdoors and indoors. The self-contained stations can supply up to 1500-2000 handwashes with one tank of water, and are often sold to tourist locations, day cares and construction sites, or rented out for weddings and community events.
"I'm a rig welder," said Jason, "So I'm accustomed to working on locations that don't have access to handwashing facilities. The idea for these stations came to me one day when I was filling up my car at a petrol station. I was frustrated there was no place to wash my hands and I thought up the idea for a handwashing device."
Using his welding expertise, Jason set to work designing and creating his product which evolved during the COVID-19 pandemic to be touchless. Jason said the pandemic further highlighted the need for the stations and allowed him to grow his business as handwashing was essential for public safety and helped stop the spread of the virus.
In 2021, Jason received support from the LiveWIRE program which he says was game changing. The program taught him about advertising and marketing, bolstering his sales, and he was introduced to a network of people that helped him streamline his product design and meet potential clients and investors.
Although his business is young, he has patents in the US and Canada with big ambitions for the future. He hopes to market his product nationally and internationally and grow his workforce. "I'd like to become a mainstream distributor for rental companies, and I'd like to take my product global," says Jason.
Kara Potts – Potts Painting
Kara Potts, founder of Potts Painting and mother of six, is an Indigenous entrepreneur that began her commercial painting business with her husband in 2018 after recognizing the lack of trade services within her Piikani community, located south of Calgary, Alberta. Starting with a small contract to paint 10 houses from the Piikani First Nation, Kara's business grew to service larger commercial contracts soon after.
As Potts Painting expanded, Kara created and designed a product called "Handy Hinge", a reusable and environmentally sustainable replacement to painters' tape which allows her to quickly paint around doors, frames, and trim.
She participated in Shell LiveWIRE in 2021 to receive help taking her Handy Hinge idea to market including legal patent support, accounting, marketing, and promotion. The program provided her with legal, communication, marketing and, financial advice to help promote and sell her invention. Recently, she's been in discussions with Sherwin Williams, a major painting company, about product sales.
Kara remains a strong supporter for the trades industry within her community and only employs members from Piikani First Nation. She currently has two full-time employees and six part-time workers. As a woman in a male-dominated industry, she continues to challenge stereotypes and advocate against discrimination of women in the industry.
"Founding a company in this market meant I needed to gain respect in my trade and be fearless doing business with other contractors," says Kara. "The first large project that I worked on I was the only female on the job site. I was treated poorly as if I was only a labourer, but I persevered in building relationships with business owners, contractors, and other tradespeople as an equal partner in business. Each project is different, but I always go in knowing that I will be the only female on-site and that most of the men will treat me differently."
Kara is passionate about her company and proud of her accomplishments. "I love the freedom of being a small business owner. The responsibility of my success is determined by the energy I decide to invest. Success is limitless if I choose to be successful every day no matter what challenges I face. At the end of the day, it is my company that revels in my accomplishments and that is something that makes me proud to be a business owner."
Tryna Gower – Wellness Centre
Tryna lives in Dawson Creek BC which is in an area called the Peace Region. It is fitting as she dedicates herself to helping others find their inner peace and is passionate about influencing change and making positive impacts to create thriving societies. Her story of peace is inspired from living with the land, using the vibrations and intelligence of the water – the Peace River and her community's Elders, the knowledge keepers. She inspires others to find personal fulfilment through the gifts from Mother Nature. Tryna is a psychic medium, author, and photographer. She believes that meditation is a doorway for living a balanced life. She carries lessons and gifts from her Indigenous heritage that she uses to help others nurture their own life-transforming intuition and leadership abilities.
Tryna believes everyone is connected through healing and learning and her mission is to help others balance all the beautiful, contradictory, essential, and extraordinary aspects of their true selves. Whether it's through learning how to meditate, how to harness intuitive gifts or through psychic readings, Tryna helps Indigenous and non-Indigenous individuals connect to their higher selves or supports those who are curious or want to explore their own energetic capacity. Tryna also helps those who suffer from depression, anxiety, indecisiveness, feeling stuck or confused about their purpose, by using spiritual wellness and healing.
"Allowing myself to use the natural and inherent connection that we all have to speak directly with the Creator," is what Tryna says she loves most about being an Indigenous medium and healer. "We are all simply the essence of the body, mind, and spirit; three parts that serve our human experience."
Among her numerous accomplishments she has been selected as 1 of 100 New Pioneers -Stories of 100 BC Women Entrepreneurs, and she has accepted a BC Achievement Awards' inaugural Business of The Year Award in addition to publishing a book, "be.come: begin to be" guiding individuals to manifest inner strength and self-actualization.
The Shell LiveWIRE program supported Tryna with rebranding and resurfacing her Wellness Centre, supporting her with tools and resources she never knew existed. She gained skills and direction on how to elevate her current ventures and strengthen her marketing opportunities, which became especially helpful as she pivoted to virtual support through the pandemic. For more information on how to connect with Tryna or to sign-up for newsletters, please visit her website www.trynagower.com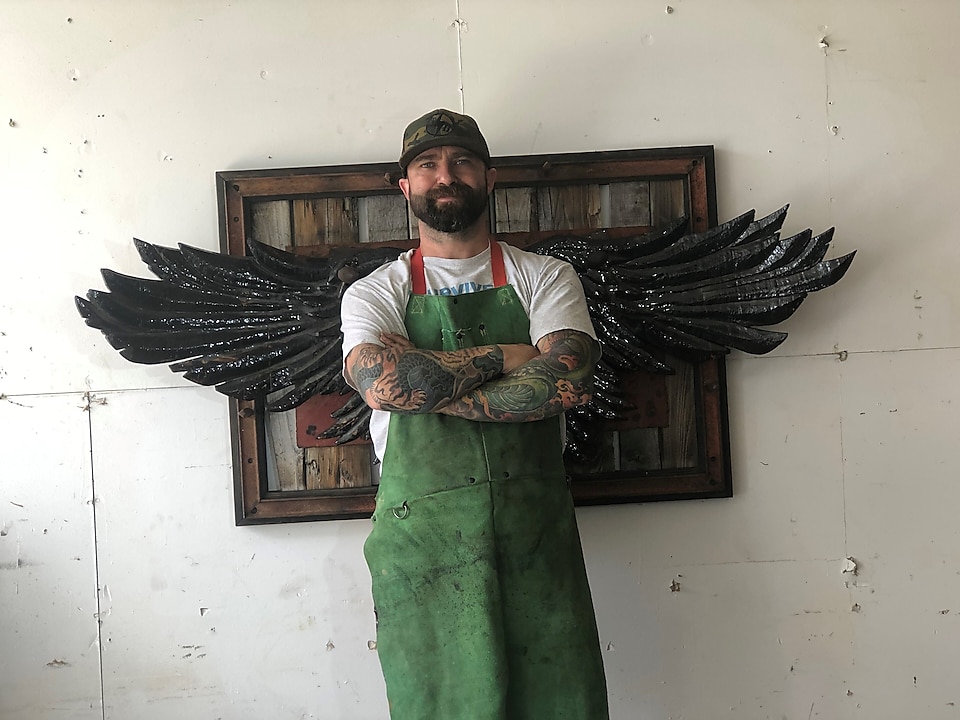 Allan Patterson, Tradesman's Hand Grenade & Paint It Black Studios
Allan Patterson feels blessed to be doing what he loves – fulfilling his creative passions through art and innovations. "When you love what you do, it never really feels like work," says Allan, a pitch winner in the third LiveWIRE cohort for the Tradesman's Hand Grenade (THG). Even before reaching the end of the program, he felt he had already won with everything he gained from meeting new people to the resources he acquired. Allan feels his toolbox is now full.
As a kid, Allan loved making art and creating inventions though he pursued other career ambitions as he grew up and didn't spend time enjoying things that filled his cup. Amidst the COVID pandemic, and while being off work to nurse an injury, Allan found the opportunity to refocus on activities that brought him joy.
Allan's wood, steel, and concrete art hobby, transformed into a small business named Paint It Black Studios as people began to purchase his creations. He found this work nurturing for his mental health and he was able to fund hospital trips to Edmonton for injury treatments with the income he generated. After a surgery, Allan found himself in search of new employment and turned to roofing which was a family trade - it was here that his idea for the THG was born.
This innovative and versatile tool holder uses powerful magnets to hold small tools like utility knives, which are commonly housed in aluminum or plastics. No pockets? No problem. The THG is designed to be used anywhere you need it.
The idea was inspired from making four leaf clover buttons for his daughters on St. Patrick's Day and from his childhood making buttons from bottle caps and quarters. "It is rewarding to see my idea through to the end regardless of the outcome because I know my daughters are watching," Allan says.
Allan obtained a patent for the THG prior to joining LiveWIRE and used the program to gain further resources and connections to launch his idea. He is hoping the THG will be available for purchase on the market soon. In the meantime, you can follow him @tradesmanshandgrenade on Instagram for updates.
Derek Douglas – True Dispensers
True Dispensers founder Derek Douglas said COVID-19 inspired him to start his responsible consumption business. "When the pandemic started a couple of years ago, I remember seeing a plastic sanitizer bottle in every store," says Derek. "Businesses didn't have alternative solutions. COVID-19 happened so rapidly; companies couldn't adapt to new requirements sustainably."
That was the start of Derek's idea for a refillable stainless-steel container that shops could use to hold sanitizer. "We started walking around downtown to show business owners our prototype and get product feedback, but people loved the product; they wanted to buy it from us immediately," he says.
In addition to selling and delivering stainless steel liquid dispensers, Derek and his team developed relationships with manufacturers so that sanitizer suppliers could directly refill the dispensers, reducing waste. He says his product helps business owners cut cleaning and sanitation related waste by 75 per cent.
Derek credits Shell LiveWIRE for helping grow and pivoting the business, which now employs six people. "Everyone during the course was very welcoming and inviting. They helped me develop a business model canvas and supported me with accounting and marketing support. I also won a pitch at the end of the course and received approximately $4000 to invest back into my business," Says Derek.
Since its inception, and with the help of LiveWIRE, Derek's business now includes True Dispensers at electric vehicle charging stations. He has won several government contracts in addition to selling his dispensers to hospitality venues like hotels and restaurants. "It feels great to help people get work and give them work they enjoy," he says.
Reconciliation
Through our Commitment to Indigenous Peoples we build meaningful relationships with Indigenous Peoples and communities based on honesty, integrity, and respect. As a company, we will positively contribute to reconciliation with Indigenous Peoples and communities in Canada by recognizing Aboriginal and treaty rights, the diversity of Indigenous cultures across the country, and by jointly seeking opportunities to work together for mutual benefit.
For more information on Reconciliation in Canada, visit: Truth and Reconciliation Commission of Canada - NCTR Reconciliation (rcaanc-cirnac.gc.ca)
2023 LiveWIRE Offering
The 2023 program is currently being refreshed, check back soon for new course dates and information on how to apply.
This programme did a great job providing actionable concepts in a way that encouraged application. It was a hands-on, thought provoking curriculum that was easy to understand in a very supportive format. I enjoyed listening to the individual stories, the knowledge and expertise of the guest speakers, and I will leave with information that I can use in my own business practices as well. I believe it would be extremely beneficial to future Indigenous Entrepreneurs to continue to offer this programme!
I absolutely love the people and programme and look forward to each and every session. The group is very helpful, inspiring and understands the mind and needs of us entrepreneurs so well. Hearing that this programme will be available for others going forward is wonderful news*. For me personally, I love the opportunity to mix with other like-minded passionate businesspeople who can share so openly. The amount of trust in the room is phenomenal. Love everything about the course and people.
Shell LiveWire has been an incredible experience for me, both as a mentor and as a small business owner. Incorporating indigenous culture into the first week was a highlight for me, along with hearing the stories of all the small businesses. It really feels like such an encouraging community, everyone cheering everyone on.
The course material has allowed me to really look at my own business in a new way. A business plan is daunting and this [Business Model Canvas] just gives a business owner a real, visual way to see their business.
As an indigenous small business owner, I would highly recommend the programme to continue in Canada. We need to market, explain and show the Indigenous communities the value this provides. If there is any way I can help keep this going, please let me know.
I have found the Shell LiveWIRE programme to be inspiring, insightful and I have learned so many technical concepts. The mentors and other entrepreneurs have been so helpful in actualizing concepts that have been new to me. Overall, I have felt supported and the contacts made on my behalf to connect me to other provincial and federal programmes is amazing!
I highly recommend Shell LiveWIRE for anyone looking to explore a business venture or expand their current business. I would not have made it as far in the planning process for our business without the Shell LiveWIRE programme.
More about Shell LiveWIRE
Every year Shell LiveWIRE supports thousands of individuals to access the knowledge, skills, networks and resources to turn their business ideas into successful enterprises which provide a sustainable income, create jobs and drive innovation.
Shell LiveWIRE's Top Ten Innovators is a global competition that highlights and rewards impactful and innovative LiveWIRE entrepreneurs.